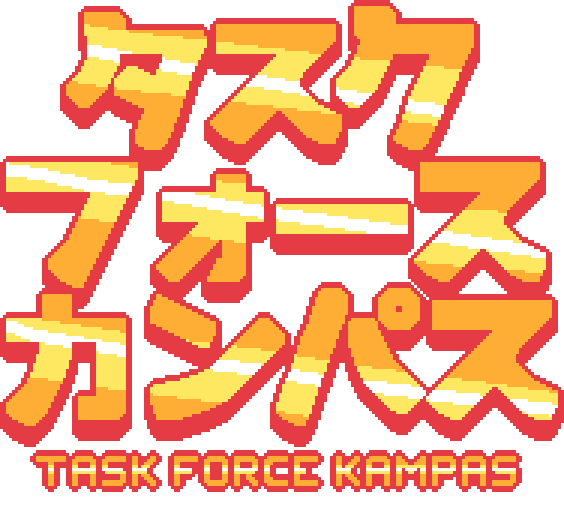 Task Force Kampas (Presskit)
Factsheet
Developer: Casiopea (Zaragoza, Spain)
Release date: February 22th, 2019
Genre: Shoot-em-up
Platforms: PC
Website: casiopea.itch.io, casiopea.itch.io/taskforcekampas
Price: 4.99$
Description
Task Force Kampas is a classic shoot-em-up on steroids.
The game is inspired by the Golden Age of japanese shmups, and adds new mechanics, randomly generated levels and handcrafted bosses. The game's an endless loop: you can finish it, but also find the way to continue past the ending and get the highest score!
Space shooters were never that punchy before. Task Force Kampas emphasizes music and game feel to create the perfect game you'd want to spend all your coins into (if that were still a thing, you know.)
The story revolves about a team of outcasts fighting for their future, who happened to be at the worst place during the Evil Invasion. Can you contain the breach? Can you save the whole universe before it becomes corrupted? More importantly, can you save your friends?
History
Task Force Kampas began its development in February 2018, while Casiopea was hosting a workshop & game jam in their hometown. Thinking about what kind of games they had never tried to prototype, they swifly made a shoot-em-up in just an evening as a study, having the early classics in mind and keeping it as simple as possible. The game ended up being so much fun that they kept adding new features and it became a full-fledged game.
Features
High-intensity gameplay, randomized levels and hand-crafted bosses.
Endless runs inspired by early arcades --get the highscore with just 1 credit.
Risk-reward: kill your enemies to boost your power or stop shooting to repair your ship.
Punchy techno/synthwave OST to get you in the mood.
Save the stranded cocos for unlimited happiness.
Several rewards including alternative palettes and extreme difficulties for hardcore shmup players.
Screenshots and press material
You can download a .zip with several screenshots and press material at the end of this page.
Request a press copy
You can request a key via distribute() at this link or alternatively send us a quick email at casiopeateam@gmail.com. You will be answered ASAP.
Monetization permission
Casiopea allows for the contents of Task Force Kampas to be published through video broadcasting services for any commercial or non-commercial purposes. Monetization of videos created containing assets from Task Force Kampas is legally & explicitly allowed by Casiopea.
Credits
Pablo Checa
code & game design
Víctor Carnicer
art & game design
Nacho Artigas
music & sound design
Paula García
PR & testing
Contact
casiopeateam@gmail.com
twitter.com/casiopeawave
instagram.com/casiopeawave
casiopea.itch.io
Install instructions
Please, read the README for details on each file.
Download
Download
All Screenshots & Press Material
12 MB